Evolve Your Communications With 3CX
3CX is a software based PBX which runs on mainstream operating systems, and works with SIP standard based IP Phones, SIP trunks and VoIP Gateways to provide a full PBX solution – without the inflated cost and management headaches of an 'old style' PBX. Used by more than 30,000 companies globally, 3CX has been recognized for its innovation and cutting-edge technology.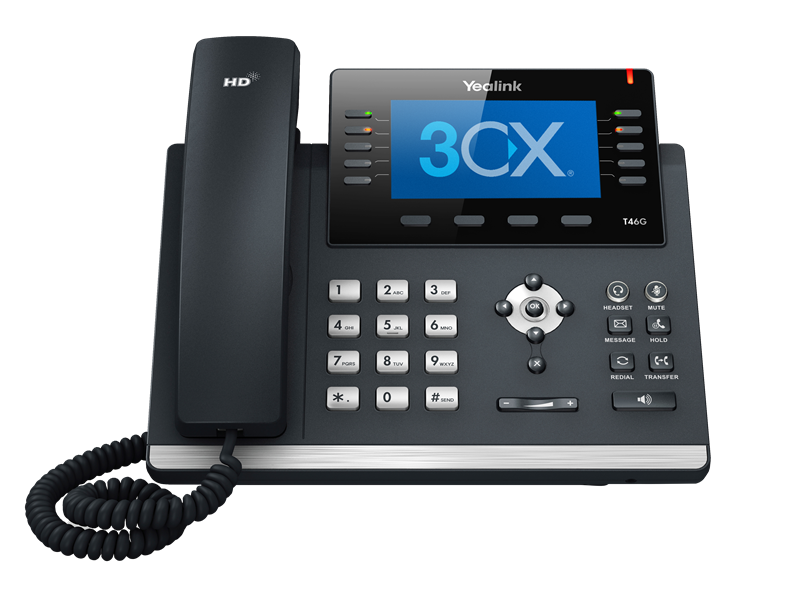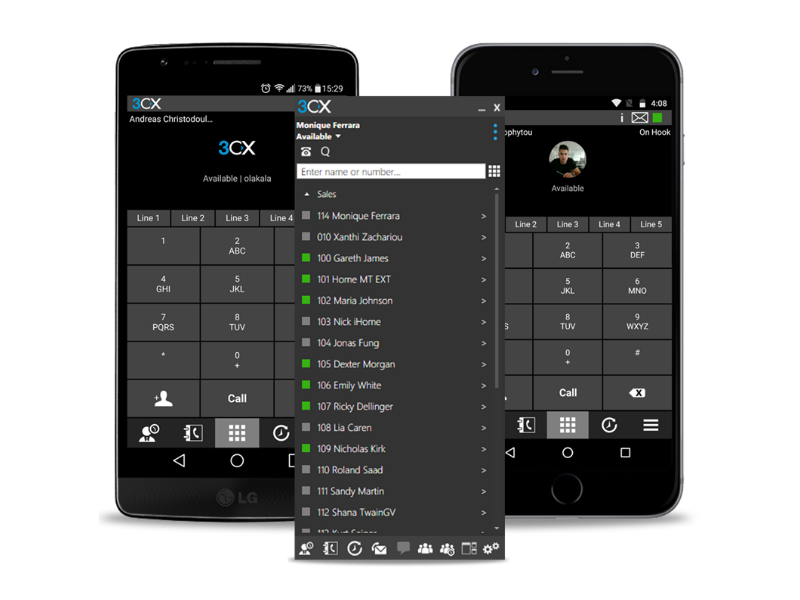 Easy to Manage
3CX includes clients for smartphones and Mac or Windows laptops that allow users to use their office extension from anywhere, seamlessly integrated as if they were in the office. Not only are all calls to the office free of charge, but employees can leverage one single number and make a professional impression.
Take your extension everywhere you go
All calls are free of charge – slash your mobile phone bills
Increase productivity – work from anywhere
One number – Don't give out your personal mobile number
Halve your Telephone Bill and Increase Sales
With 3CX, companies can reduce their telephone costs by up to 80%, by leveraging SIP trunks, WebRTC, free calling to remote extensions and offices and reducing the number of fixed telephony lines. With the CRM integration, agents get a customer name rather than a number.
Save on call costs by lowering mobile & customer service number bills
Easily add and remove extensions – no per user license
Know who's calling with CRM integration -increase customer satisfaction
Leverage existing hardware, wiring and low cost open standard hardware
Easy Installation and Management
Because 3CX is software-based, it is easily installed and managed by IT administrators without the need for special telecom skills. It's preconfigured to work with popular IP Phones, VoIP Gateways and SIP trunks saving you the hassle of having to configure and manage these devices.
No need for extensive telecom knowledge or training
Open Standards – Vendor independent
Central Control from the 3CX Management Console
Choose from popular IP Phones, VoIP Gateways, SIP Trunks
10 Advantages of 3CX Phone System
Software based: Easy to install & manage
Inexpensive to buy and expand
Work from anywhere with iOS & Android clients
Leverage existing IT infrastructure & Server hardware
Save on your phone bill with SIP Trunks & Mobile / Remote clients
Integrated video conferencing using WebRTC
Better customer service with advanced call queues
Integrate with CRM & Accounting software
Standards based – use popular IP Phones, SIP Trunks
Personal Click2Meet URL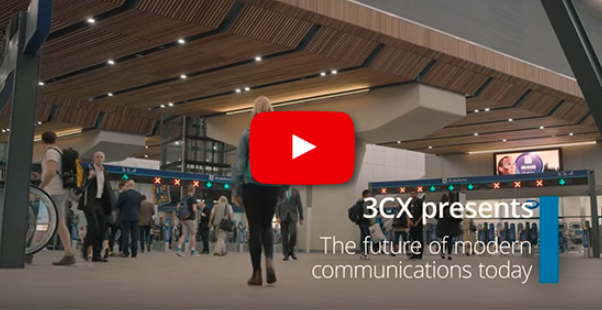 ---
Boost Productivity & Customer Service with 3CX Pro!
Boost your company's sales by providing superior customer service, increase staff productivity and reduce call costs with 3CX Pro! 3CX Pro adds advanced call center features, Exchange/LDAP integration, Salesforce, Dynamics, Exact and more CRM support, cross office presence and better reporting to the standard edition.
The Pro edition includes all the award-winning features of the Standard edition but also adds fantastic advanced call features that are geared to stepping up your customer service and ensuring your company stays ahead of the competition.
Advanced Call Features:
Never miss a call! Your customers can hang up and still retain their position in the queue. They're automatically called back when they reach the top of the queue.
Review how long your customers have waited in a queue before your employees took the call and see the amount of answered and unanswered calls.
Improve customer service by screening calls with the Listen In, Listen In and Whisper and Barge In feature.
Massively increase your employee's productivity by providing advanced call features such as real-time call statistics, wallboards, SLA alerts, a selection of queues and more! The Pro edition also includes seamless Microsoft Exchange Phone book and LDAP integration.
3CX Pro Key Features:
Monitor the status of queues by seeing how many callers are in the queue.
Log staff in and out of queues.
Review the time your staff logged in and out of queues.
Wallboards - Display real-time queue and call statistics directly on a monitor.
Additional queue strategies include Round Robin, Longest Waiting, Least Talk Time, Fewest Answered, Hunt by Threes - Random, and Hunt by Threes - Prioritized
Get notified instantly when callers have been in a queue beyond the set SLA time.
Meet your customer service requirements by viewing all call events.
---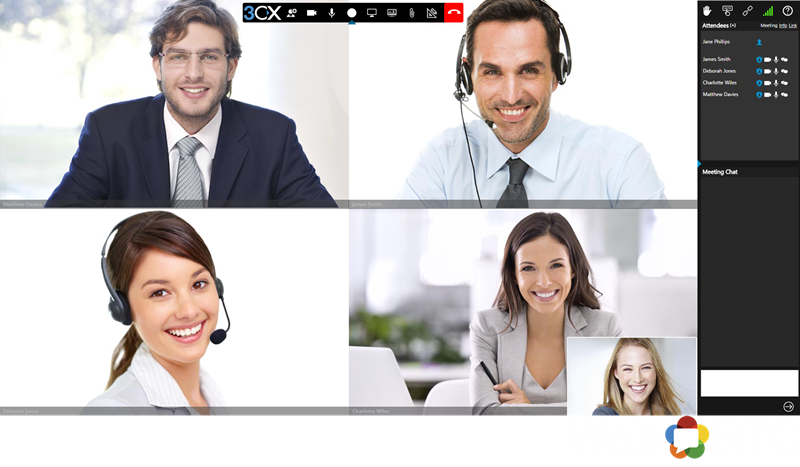 3CX WebMeeting:
Online Meetings and Video Conferencing Made Easy
Hold face to face meetings at the click of the button! How? By using 3CX WebMeeting which is WebRTC based and eliminates the use of clients. 3CX WebMeeting, is an easy-to-use web conferencing solution that transforms the way you communicate and collaborate within your company and with customers. Save time and money by hosting your meetings online. 3CX WebMeeting is offered with two different deployment options: Integrated with 3CX and 3CX WebMeeting Server (On-Premise).
Say goodbye to plug-ins with WebRTC
3CX WebMeeting uses WebRTC technology to enable video and voice communications to take place through the internet browser. Participants can now seamlessly join meetings without the need to download any additional plug-ins.
Schedule a video conference on the spot, or elevate an ongoing call
Clientless using WebRTC
One-click conferencing
Individual WebRTC call link for each user
Save Time & Money with Feature-Rich Web Conferencing
Today online meetings need more than video – presentations must be high definition and crisp audio quality as if you were there. Share your screen to demo software, or point users to a particular website using the co-browsing feature. Classroom features, such as surveying and feedback, allow you to keep your audience engaged. Assist your customers by offering them Remote Control of their PC and hand over the meeting control to another participant.
Conduct a sales presentation with video
Host effective webinars using the classroom features
Assist customers with screen sharing and remote control
Impress your audience with perfect quality presentations
Online Meetings for all – Unlimited Users, One Low Price
Say goodbye to clunky and unprofessional account sharing, and hefty per month, per user subscriptions. Give personal access to 3CX WebMeeting for one low yearly price to the whole company. Now anyone can create a meeting at any time via his personal online meeting account.
Unlimited users – No per user fees
One low yearly fee for up to 250 participants
Launch meetings from the web portal, 3CX client, or  Outlook
Personal Click2Meet URLs for each user
Contact us today to find out how 3CX's incredible features can transform communications in your office!
---
3CX Add Ins: