Technical Support Services
Fast and Responsive Computer IT Support to Keep Your Business Running at 100%
When something goes wrong with your computer system, everything grinds to a halt. With On Demand IT Support from NETiMAGE, you won't have to worry about what happens when you have a problem with your technology, because we're available 24x7x365 to ensure that things are resolved quickly.
With NETiMAGE's On Demand IT Support Services, you can enjoy peace of mind knowing that our certified network engineers can quickly and efficiently resolve even your most complex technical problems.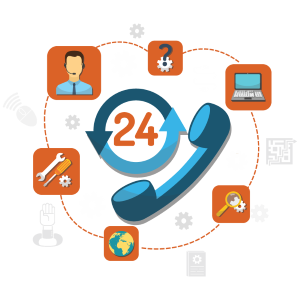 With our friendly and responsive support engineers ready to help, relief from your biggest headache is just moments away.
With On Demand IT Support from NETiMAGE you can expect support that is:
Responsive – with 24x7x365 technical support coverage, you'll always get a prompt reply
Reliable – ready to handle your IT problems, big or small, we're a phone call away
Knowledgeable – we'll fix your network issues so they don't keep coming back
Friendly – we love our clients!
Ready to assist you in any way, NETiMAGE technical support can play an important role in your organization, freeing you from the ongoing frustration and lost time that IT headaches can cause. NETiMAGE IT support is as easy as picking up the phone and calling an 800 number and is available to you whether you're working from your main office, a home office, or a hotel room. Server's not responding? Can't remember your login? Having trouble connecting to your network? With our friendly and trained network engineers, relief is just moments away. From server and network problems to laptop and workstations, IT technical support covers all of your computer-related problems.
NETiMAGE realizes that your workload takes you well past 5:00 p.m. and sometimes into the weekend, often times leaving you without the help you so desperately need. That's why the NETiMAGE support team is here to assist you 24 hours a day, seven days a week. Our technical support team uses the latest remote access tools to ensure that your computer issues are solved as quickly as possible and our guaranteed response time let's you know when help is on the way. Reliable, responsive, and here when you need us, NETiMAGE technical support is just a phone call away.
Get the tech support you need, when you need it